Summer is all about spending time outdoors. Whether hanging out in the backyard, the campground, or on the waterfront, there is a good chance people will be dragging out their old grill. BBQs and outdoor family dinners are as much a part of American culture as baseball.
People congregate around the grill for Memorial Day, 4th of July, Labor Day, and many weekends and weekdays. This year trade in your old grill and upgrade to a new charcoal grill. If you are looking for a new best charcoal grill, then check out these 5 great options.
If you are looking to take your grilling on the road, then you are going to need the Weber Smokey Joe Gold Charcoal Grill. This ultra-light, ultra-compact grill is great for camping or for people who have limited storage space. Coming in at just under 10 pounds this mighty little grill has a black porcelain-enamel bowl and lid, a heavy-duty plated steel grate, and a 10 year limited warranty.
It has a 14″ grill diameter and 150 square inches of cooking surface. This is the only downfall to the Weber Smokey Joe Gold Charcoal Grill. If you are looking to cook for a large group, you will need a different grill.
---
With the Char-Griller Smokin' Pro, you will look for reasons to have get-togethers and BBQs. This grill comes with a large 830 inch cooking area (which includes the side smoking box), cast iron grates, and an air flanged hood with a heat gauge. It also comes with a 1 year limited; 5 year limited body warranty.
This grill is for serious grillers. The only disadvantage it has is its size. While this makes it advantageous for cooking large quantities of meat, the Char-Griller Smokin' Pro is pretty large to be transported to various functions. So if you are planning on having a get together then you better do it at your house and not volunteer to bring your grill to other people's parties.
---
The Sungmor Rectangle Charcoal Grill is a perfect grill for those who plan to cook on the holidays or every weekend. This super affordable grill features a 410 square inch cooking surface and a 193 square inch warming rack. It also has adjustable dampers for airflow control, a foldable plastic side shelf for utensils and condiments, and wheels for easy moving.
There is also a steel bottom for additional storage. This grill is perfect for anyone because it is large enough to cook for the company while at the same time compact enough to transport or store around the house with minimal hassle.
---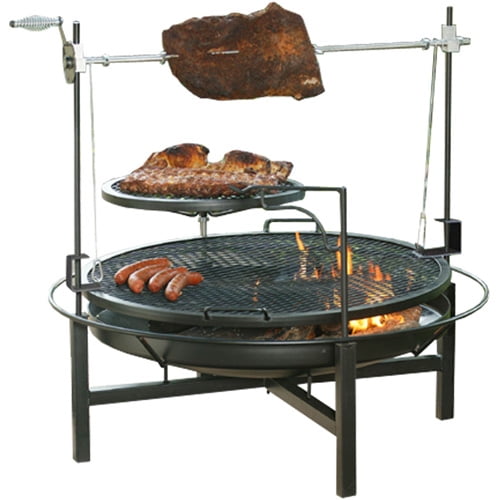 The Round Rock Fire Pit & Grill is unlike your average charcoal BBQ pit. This all in one unit can be used as a charcoal grill, a rotisserie, or a fire pit. It boasts a whopping 36″ grill with 1403 square inches of cooking surface. It comes with a swing-out pothook and accessory grate, adjustable meat hooks, and a hand crank rotisserie unit. Once the BBQ is over, you can remove the grill apparatus and throw in some wood so you and your guests can sit around an open flame.
This really is a must-have unit for anyone who has considered purchasing a new grill or a fire pit.
---
The Weber Performer Charcoal Grill With Gas Ignition is a top-of-the-line grill. It has a large 22.5″ porcelain-enamel bowl and lid, a tuck-away lid holder, a charcoal bin with 20 pound capacity, heavy-duty steel cart with a wire bottom shelf, and a thermostat work table for food prep. If you purchase the Weber Performer charcoal grill then you can throw out your lighter fluid, because this grill uses gas to ignite the flame.
If you have got all of the BBQ accessories, chef hat, and your own personalized apron then the only logical step is to purchase a Weber Performer Charcoal Grill. The only downside I can see to this grill is the gas ignition. You have to purchase a 14.1 ounce or a 16 ounce propane bottle, which gives you something else to do instead of just throwing in the charcoal and lighter fluid. If you are not deterred by the propane bottles then this grill will afford you many fine cookouts.