Motor homes are vehicles; they have engines and are self-propelled. There are three types of motor homes, listed simply as Type A, Type B, and Type C (or Class A, Class B, and Class C, which appears to be the American designation).
Types of Recreational Vehicles by Elizabeth Borer does an excellent job of describing the three classes of motor homes. Since the industry is in constant development, this present article reflects recent trends.
Class A Motor Homes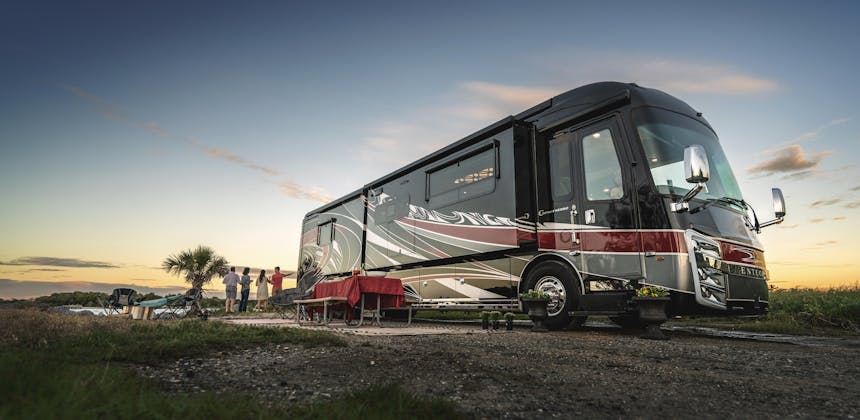 Type A motor homes are built on a specially designed chassis. Newer models are trending to be less boxy, with a more aerodynamic front end, lighter construction, shorter lengths, and even hybrid engines, all in a bid for improved fuel efficiency.
Type As has traditionally been the largest type, providing amenities such as entertainment centers, central heating and air conditioning, laundry rooms, even fireplaces, and whirlpool baths. This helps make them the RV of choice for full-time or long-time living.
Spacious – even basic models are roomy, and slideouts can add space to living, dining, kitchen, or sleeping areas.
Well equipped – basic models are well-appointed, and the luxury extends to million-dollar units.
Smooth and stable – no special license required (unless the vehicle has air-brakes). Nonetheless, they are long, and driver training is strongly advised.
Powerful enough to tow a small vehicle or toy trailer.
Multi-Season – Versions are available for winter RVing, with a high output furnace, heated tanks, upgraded insulation and windows.
Naturally, luxury comes at a price: Though the smaller ones are priced in line with the other types, the larger Class A motor homes are among the most expensive units.
Class B Motor Homes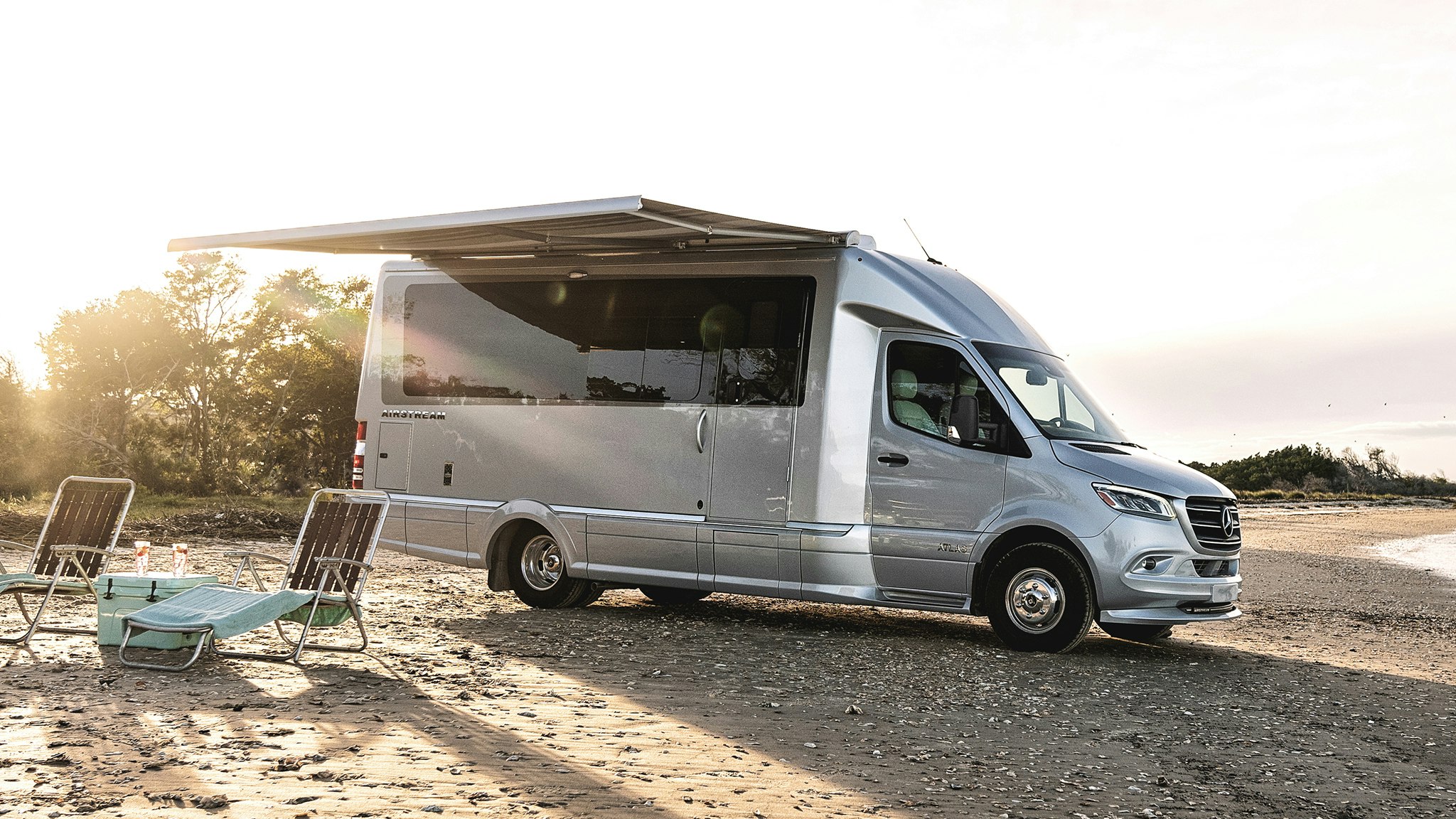 Camper vans (or van campers) are built onto a standard passenger van, usually with a raised or pop-up roof. The smallest of the motor homes, they range from 4.9 to 6.4 meters (16–21 ft) and can often go anywhere an ordinary passenger van can go.
Type B provides basic sleeping and eating arrangements for a couple or small family. Bathroom and shower arrangements are available in luxury models, but the upper end of Type B overlaps in price with Type C, so it's important to balance the benefits of type B against its compact size.
Easy to drive – The camper van drives like a regular van.
Economical – Good fuel economy compared to larger units.
Parkade Friendly – Most units can enter standard parking facilities, and need only standard parking space.
Versatile – Can double as the family vehicle, a mobile office, a camping home.
Compact and cozy (read: okay for two, crowded for four).
Towing – A lightweight travel trailer for an extra sleeping room, or toy hauling.
Headroom – A raised roof and/or a dropped floor gives sufficient headroom.
Multi-Season – Versions are available for winter RVing.
Improved engineering and light-weight composites mean that designers can pack an amazing amount of convenience into a small space.
Class C Motor Homes
Type C is built on a cube van (commercial van) chassis, with a space over the cab. The size ranges from 6.4 to 10.7 meters (21–35 ft), comparable with the smaller type A rigs, and the starting cost is comparable to that of Type B but with the greater room.
Type C units come with slideouts and a variety of luxury options. In smaller units, if the cab-over is the main sleeping area, some users may see the climb and relatively low headroom as a disadvantage (as is converting the dinette to a bed, for some). In most units, this is a bunk for the kids, a combination entertainment/storage unit, or a handy general storage area, usually with a slide-out bunk to add versatility and convenience.
Type A, because of the greater headroom above the driving area, gives an impression of greater interior space. However, in terms of living area and amenities, Type C seems to have much in common with the front-engine Type-A.
Whichever the type, RVs have class!