If you are planning a camping trip, one of the things that you will need to consider is a travel trailer. The best travel trailers will help you save on accommodation costs. However, motor homes come in a wide variety of brands, sizes, sleeping capacities, amenities, and sizes. This can make it hard to choose the right option for you. Fortunately, we have created a guide on the best travel trailer brands.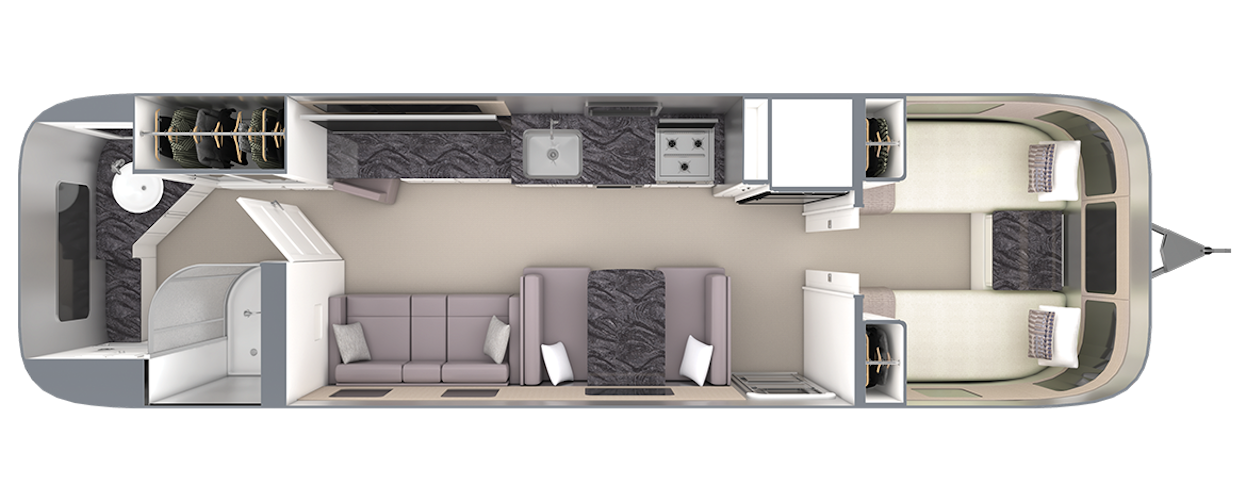 If you are searching for a spacious, luxurious, and advanced towable motor home, you may want to consider the Airstream travel trailer. The trailer is a great choice for long trips as it's roomy and stylish. It comes with lots of great amenities such as tailor-made cabinets and a heated bathroom.  It has a length of 30 to 33 feet with 4-floor plans that can accommodate up to 5 people.
But perhaps one of the most advanced features of the Airstream travel trailer is the smart control technology.  With this feature, you can monitor and adjust the key functions of your mobile home from any location. You can use the technology to adjust the air-conditioning, lights, and awnings. The technology will also help you check the battery, propane, and water tank level from your phone.
Therefore, with this smart control technology, you don't have to sleep hungry because the propane gas was low and you will always stay updated on your freshwater tank levels. This can help you plan for your next refill. You can use the smart control technology to monitor the power levels and ensure that your batteries are fully charged while on the road. With the tire pressure monitoring, you can closely watch your tire pressure and receive alerts when you should act. You can control the heat pump or air condition from any location using the technology.
Another key feature of the mobile home is the GPS locator. This feature allows you to locate your travel trailer should you wander away from it. You can use the upgraded Wi-Fi signal or the exclusive 4G LTE when away from home. The RV trailer also comes with an awning that can be extended and retracted. To enjoy the outdoor environment, just open the awning using your phone app.
Pros and cons of Airstream trailers
Before you buy this travel trailer, consider the following pros and cons:
Pros
Mobile homes have a low center of gravity that gives them gravity when driving. This can be particularly important when you want to maneuver around objects or to make a fast lane change.
Better fuel efficiency. Airstreams are made in a way that makes them aerodynamic, ensuring better fuel efficiency. The aerodynamic design makes them stable and ensures they glide smoothly as no buffering occurs as a result of the headwinds
Sturdily-built. The Airstream trailers are made of strong materials that make them durable. The body is made of aluminum panels that are joined together to make a long-lasting and streamlined structure.
Perfect distribution of weight. The trailers are made in a way that the majority of the weight is distributed  over the axle, enhancing control during towing
Environmental-friendly. Some of the materials that are commonly used in Airstream are aluminum, steel, and wood. All these materials can be recycled
Cons
There are a few downsides of Airstream travel trailers such as:
As compared to other RVs in this list, Airstream trailers are usually narrow on the inside.
Climate control. The manufacturer would have made them better by adding more insulation to improve heating and cooling
Poor weight distribution. If two people stand at the back of the bedroom while the landing gear is up, the trailer may tip.
With the Airstream Care App, you can harness the power of the internet, to maintain your best travel trailer in top condition. All you need to do is to enter the model and the kind of service you need. Depending on your service schedule, and use, you will receive regular updates on the things you should check regularly to ensure that your RV is running in top condition. You will, therefore, not need to do a manual self-service checklist of things like battery inspection, fire extinguishers, and CO detectors.
---
Since 1958, Winnebago has been manufacturing motor homes, making them one of the most popular RV manufacturers. They are credited with the introduction of the Thermo-Panel wall that has enabled them to create strong and lightweight sidewalls that are also well insulated. The company has several travel trailers in their Minnie family.
The smallest RV in their Minnie series is the Minnie Drop that is aerodynamic and has some great features. Despite its small size, it has a nice retro, bent shape and living space dimensions of 6.5″ feet width and 6.5 height. The length of the model ranges from 19" to 25.2". They also come with a power awning of 7 or 10 feet, a water heater of 7 gallons, and LED lights.
Another trailer that is part of the Winnebago family is the Micro Minnie. With dimensions of 7 feet wide and a length of 19.2 to 25.5", the RV features 10 open floor plans. It comes with a king bed that can also be converted into twins. Some of the standard features in the unit are an AV system, external speakers, heated tank, a 3700 lb torsion axle, and off-road tires of 15.
Another Model is the Minnie, after which all the other models in the series are named. This travel trailer is lightweight and has a frame of 8 feet wide. It features slide rooms that help to increase the living area. The trailer has an exterior length of 26.9" to 32.5". It has a height of 11"  on the outside including the AC units.
The series has an 8-floor plan and a spacious dining space. Each Minnie features a gas-electric refrigerator, and a USB charging ports. It also comes with a 13.5 K BTU roof air system, with a capacity to be upgraded to a 15.0K system.
The Minnie Plus is the biggest of the travel trailer series. It features dimensions of 29.6"-36.11" wide, 8" wide, and a height of 11.4". The model features 6 four plans, with 4 of these having a minimum of 2 slides. It comes with various features such as a roof air system of 15.0K BTU, double door gas electric fridge with an 8 cube capacity, LED lighting, utensils that are made of stainless steel, and a 10-gallon electric/gas or water heater.
While the majority of these models feature theater seating, you can change this to a tri-fold sofa. Some of the other features include a free-standing table and a fireplace remote.
Pros and cons
Let us now looks at the benefits and drawbacks of the travel trailers.
Pros
Easy to tow and park. Most Winnebago trailers, especially the Minnie series are small in size making them easy to tow and park
The travel trailers have a double axel design that offers them stability in bends or steep mountains
Lots of storage space. The Winnebago camper trailers feature well-made and deep cabinets with a well throughout a layout that makes it easy to store and retrieve all your essentials without bending.
Good exterior finish. Most of the Winnebago travel trailers have a high gloss gel coat fiberglass exterior with 6 great colors
Cons
Hard to clean floors in some design. If you travel a lot with your pet, you may find the floor register of the RV trailer hard to clean
Thin mattress. The mattress that comes with the trailer is a bit thin. However, you can correct this problem by adding a foam topper or replacing the mattress completely.
Loud water pump. The water pump especially in some Minnie models is usually noisy.
Overall, the Winnebago travel trailer has some great features. We particularly liked the spacious kitchen with plenty of gallery space, sink, microwave, and a cooktop. You can also enjoy an open-air entertainment area with patio speakers and LED lighting. We, therefore, find the Winnebago Minnie to offer one of the best values in the market. This is why it has consistently ranked as one of the best travel trailers.
---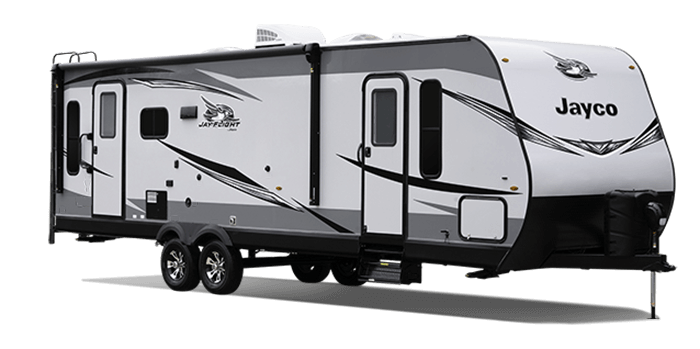 Jayco Jay flight has made a name in the manufacture of high quality and affordable RVs. The motor homes are available in a wide range of sizes and layouts and therefore, you can always find an option that will meet your travel plans.  Their floor plans include luxurious features with appliances made of stainless steel, spacious lounge areas, and comfortable seating.
The top-rated travel trailers feature the magnum truss roof system that can withstand 4,500 lbs. The strength of the roof is partly because of the decking that is held in place with staples instead of screws. Both sides of the roof trusses are joined on both sides with an oversized nail plate. This offers a tighter fit, meaning greater strength and less movement.
Another key feature of the Jayco Jay flight is the climate shield that protects your mobile home from weather extremes. The climate shield consists of a heated and enclosed underbelly, flex-foil insulation, PEX plumbing, and tinted windows. This ensures that you can go ahead with your camping trip in extremely cold or hot weather. The company suggests that the climate shields will maintain the interior temperature at 71 degrees when the exterior temperature is at 100 degrees.
All the Jayco travel trailers are made on a customized frame instead of the stock frames. The frame is laser-sheared, ensuring a better weight distribution and sagging that can cause your travel trailer to wear and tear.
Pros and cons of Jayco Jay Flight
If you are unsure whether this is the right travel trailer for you, consider the following pros and cons:
Pros
Great user experience. What you will love most about the Jayco jay Flight is that it will feel like a home away from home. Many users of the travel trailers end up living in them.
Lots of space. The camper trailers have ample room for the entire family
Excellent construction. From the exterior to the interior feature, the Jayco Jay flight is excellently constructed
Good towing. The mobile home is sturdy enough, ensuring good maneuverability.
Fuel efficient. Jayco Jay flight specializes in lightweight homes that are fuel-efficient
Cons
Poor customer service. The Company takes time before completing warranty work
Jayco Jay Flight has nine travel trailer models consisting of over 80-floor plans. This ensures that they have a wide range of mobile homes to meet the needs of every camper. With their products coming with a warranty, of 2 years, they stand behind them. As the winner of the Bronze award at the 2016 Trailer Life Readers' Choice Awards, this is a brand that is worth checking out. This is without a doubt one of the best camper trailers.
---
If you need a small travel trailer, one of the options you may want to consider is the Tab teardrop trailer. This can be a great choice for individual travelers or couples. Currently, Tab Teardrop is available in 4 models: Tab 320, Tab, 400, Tab Campshell, and the Tag & Tag XL trailers.
The Tab 400 is the biggest model in the family. It comes with all the essential amenities you need combined with the modern European styling. It features a big window, a glass-top stove with 2 burners, a hot water system, and other features. The mobile home also comes with a wet bath that has a fold-down sink, shower, and toilet. Included is a Bluetooth media center that a 24" TV for the nights that you need some entertainment.
The Tab 320 is another unit trailer that has a unique look but with a modern and stylish design. The unit comes with a lot of amenities such as a water management system, a split bed that can be extended, and a media center that features a 19" TV. The Tab 320 features lightweight construction, making it easy for them to be towed by many vehicles.
If you love cooking in the outdoors, you may want to consider Tab Clampshell as it features a well-equipped kitchen at its hatchback. While it's compact enough, it still has all the amenities you need including a bath and a dining area that can be converted into a bed. There is a U-shaped dinette that can be converted into your sleeping area.
The Tag and Tag XL trailers feature a rear galley that is well equipped. At night, you can jump in a warm and cozy interior with a big window that allows for stargazing.
Pros and cons of the Tab Teardrop trailer
Here are the advantages and disadvantages of the Tab Teardrop trailer.
Pros
Lightweight and towable. The Tab Teardrop can be towed by the majority of the vehicle without much impact on the gas mileage. When you add its compact size, you see why it's a great choice for maneuvering in woods.
Great exterior extra. The RV comes with great extras on the exterior such as external speakers, and an outside camp kitchen. All these extras can help to enhance your camping experience.
Beautiful and Comfortable. On the interior of the Tab Teardrop, you will find all the essentials you need for comfortable camping. Inside is a queen bed that has an underneath storage. With cabinetry made of rich wood, you are assured of a beautiful and sturdily-made interior. In some floor plans, there is a combination wet bath to take care of your needs.
Cons
Small size. If you need a larger trailer that you can use for camping with your family, the Tab Teardrop trailer may not be the right choice for you
The Tab Tearsdrop is a great RV for a weekend getaway or an extended camping adventure. It has everything you need from a galley kitchen to a wet bath with a shower, toilet, and sink. You will also love the convenience and assurance that you will get from the Yakima roof rack with spare tire and load warrior. With this RV trailer, you will have anything you need for a good camping experience.
---
The Avia Travel trailer is another great model from the nuCamp RV family.  As a sign of its superior construction, RVBusiness voted it as the RV of the year 2020. The mobile home features a queen-size bed, a stargazing window, an awning complete with Bluetooth, and much more.
The exterior of the Avia travel trailer features a solar package and a power stabilizing system. Some premium exterior speakers will add to your camping experience. The RV comes with pass-through storage that is a good choice for packing your camping items.
On the interior are great features such as multiple side windows and a stargazer window. The camper trailer is roomy on the inside and features European-finesse cabinetry, a luxurious fabric covering, and other opulent features, enhancing your whole camping adventure.
There are a dry-bath and a dinette that can be transformed into a bed. The unit comes with air conditioning that can keep the camper trailer cool on hot summer nights.  It also features an in-drawer microwave that can be turned into an air fryer for making easy meals and snacks while camping. There are spice racks, a stove combo, and a sink in the kitchen.
The Avia camper trailer also features a master bedroom with a flat-screen TV of 28 inches. To add to the coziness, there is ambient lighting in the kitchen. You can freshen up at the dry bath after a hard day of rock climbing before relaxing on the leather cushions.
Pros and cons of Avia Travel trailer
Pros
Comfortable and luxurious. The trailer features beautiful cabinetry, warm colors, and stylish woodcraft
Sturdily-made. The wall of the RV is made of fiberglass and aluminum, ensuring many years of use
Compact and lightweight. It's a good choice for weekend camping.
Cons
As compared to the competition, the price of the Avia travel trailer is on the higher side
Overall, the Avia travel trailer combines a stylish construction, high-quality materials, and an innovative interior design to make the perfect home atmosphere. You can take your camping experience to a whole new level with this top-rated RV trailer.
---
If you need one of the best-made travel trailers that will help you experience the outdoor while remaining comfortable in extreme temperatures, you should consider the Sportsmen classic travel trailer. The mobile home can be towed by an SUV and features different versatile floor plans such as 2 toy haulers and 2 expandable bunk models.
With the KZ Sportsmen travel trailer, you can choose from nine floor plans. These floor plans can accommodate 4 to 9 people. All these camper trailers come with all the necessities you need such as a full bath, a foot flashed toilet and a sink. In the kitchen are a two-burner hotplate, refrigerator, microwave, sink, and much more.
Under the KZ travel trailers are different models that have a size range of 26.5" to 38" and a weight range of 5,020 to 8,120. They also have toy trailers whose lengths range from 24″3″ to 33″10″ and a weight range of 4,520 to 6,340 pounds. All these models are built using the tough shield metal on the exterior, a Tufflex walk-on roofing, and an aerodynamic profile at the front. Also, on the exterior are mud tires of 15 inches with good ground clearance and aluminum rims. The trailer has a holding tank that can be controlled electronically.
Pros and cons of KZ Sportsmen
Before you buy the KZ Sportsmen recreational vehicles, consider these pros and cons:
Pros
Lightweight and towable. The travel trailer is popular for its lightweight design
Sturdily-made. The mobile home is made of fiberglass making it strong
It's a good choice for campers who don't want a big camping vehicle.
The travel trailer has a stylish design providing you with all the comfort you need in your home
Cons
Low to the ground. The RV is so low to the ground that draining your black and grey tank can be hard
Poor customer service. They offer little support for their products
Overall, the KZ sportsmen recreational vehicle is one of the best RV trailers with a roomy interior and a unique design. As long as you will not need to use your warranty, you should not expect any problem with the RV.
---
How to choose a travel trailer
There are several factors you need to consider when choosing the best travel trailers for 2022. These include:
Safety
You will want to ensure that you only choose a roadworthy RV. Find out if the travel trailer has been crash-tested. Does the unit come with rear airbags? Does it have the safer 3-point shoulder belts instead of lap belts?
If you are buying a used RV, you should ensure that you ask for the maintenance records. But even when you buy a brand new travel trailer, ensure that the dealer takes you through all the systems such as propane, slide mechanism, and air conditioners to ensure that they are working well.
Comfort
You will want to ensure that you select a very comfortable RV. You don't want a situation where you are going for a long trip when cramped up. Ensure that you like the layout of the kitchen. If you prefer privacy, consider if it has doors and partitions.
Budget
You will want to consider how much you are willing to spend on an RV vehicle. Bear in mind that buying an RV is equivalent to buying an apartment on wheels and will, therefore, be priced as such. This is why you want to consider your budget.
Features
Consider the must-have features in your recreational vehicle. Remember that living in an RV will be similar to living in a tiny house. You will, therefore, have to trade off some of the things you need.  Some of the features you may need to choose from include bunk beds, washer, flat-screen TV dishwasher, pantry, desk, 2 bathrooms, and basement storage. You will want to consider which of these features are important to you and which ones aren't.
Storage
Consider how much storage your need in your RV. How many people will you be going camping with and how many items will they bring along? Does the RV have enough room for keeping your clothing, shoes, and other important items? Do you have enough space for keeping your camping gear and other accessories?  Do you have enough space to store food in your kitchen? All these will be important factors to consider.
Ease of driving
Driving a camper trailer isn't easy no matter its size. This is particularly the case if you aren't a confident driver. You may want to avoid the class A RVs if you aren't good at driving, reversing, and maneuvering through traffic. Ensure that your choice of a mobile home makes you comfortable behind the wheels.
Tow capacity of your vehicle
You will want to ensure that your vehicle is rated for the towing weight of the trailer and the estimated weight to be loaded on the trailer. It's advisable to add 1000 pounds to the dry weight to cater for the items that will go into the trailer.
---
FAQs on best travel trailers
Here are some of the frequently asked questions on the best-rated travel trailers.
Which is better: a new or a used RV?
Whether you choose a new or used RV will depend on your budget and needs. If you are trying to save, you may want to consider a used RV. But it's advisable to buy the used RV from a dealer as compared to buying from a private individual.
Are travel trailers cheaper than hotels?
You can make some substantial savings when using an RV over a hotel. This is especially the case if you will be renting out more than one hotel room for your family.
Should I choose aluminum or fiberglass travel trailers?
Aluminum sidings are usually lighter than fiberglass, making them easier to be pulled behind vehicles with a low tow capacity. Aluminum is also less costly as compared to fiberglass. This is on top of its better breathability that minimizes condensation and the chances of mold and mildew growth.
What is the lifespan of a travel trailer?
On average, a travel trailer can last for 10 years. During this period, you should have gotten your money's worth. It's also worth noting that many people continue using them for more than 10 years.
Which travel trailers have the best resale value?
From our research, we found out that Jayco travel trailers have the best resale value as compared to others in their class.
Which travel trailer is best for a full-time living?
If you are searching for a mobile home for full-time living, we recommend the Airstream classic. This is because it comes with all the bells and whistles for comfortable living.
---
Final thoughts
A travel trailer is always a good option for hitting the road but trying to buy a travel trailer can be overwhelming. However, if you have the right information, this can also be an exciting decision. Before you make the buying decision, you will want to consider the best-rated travel trailers for your needs and the features that are best suited for your lifestyle.
When researching the best options out there, you will also want to consider the different manufacturers. Fortunately, we have reviewed for you some of the leading manufacturers that have a great reputation for consistently building quality trailers. With one of the above options, you will a travel trailer that will meet your needs.
Happy buying!